Nagoya Institute of Technology / Ceramics Research Laboratory /
Students from the University of Cambridge visited CRL
[Japanese page is here]
---
Date & Time
July 11, 2006, 09:20 -11:50
Visitors
36 students and 2 lecturers from the University of Cambridge, 2 persons from Yamazaki Mazak Co. (Masayoshi Kakino & Bruce Dozier)
---
The visitors arrived at 09:15 by a sight-seeing bus. Leaflets "Nagoya Institute of Technology 2005" & "Ceramics Research 2006", a folder of NIT 100-year anniversary and a ball-point pen with printed NIT logo were distributed.
Greetings from Prof. Minoru Takahashi (Director, NIT) & Prof. Jun Sato (Director, International Center, NIT).
Short lecture about CRL by Prof. Nobuo Ishizawa (Director, Ceramics Research Laboratory, NIT).
Laboratory tour to 4 research groups of CRL, escorted by CRL teaching staff and assisted by Ph.D. & undergraduate students of NIT, from 09:40 to 10:40. The visitors were divided to 3 groups. Ardent and polite attitude of Cambridge students was impressive. There were many questions and answers.
Taking a picture of visitors and CRL staff (photo below).
Words of appreciation from a Cambridge student. A handmade print (shown below) illustrated by another student was given to CRL.
The visitors left CRL by the sight-seeing bus.
Troubles: No serious trouble. One of female students felt sick (because of too humid & hot climate in this season?), but was recovered after a short rest. The sight-seeing bus was too large to change the direction in CRL.
---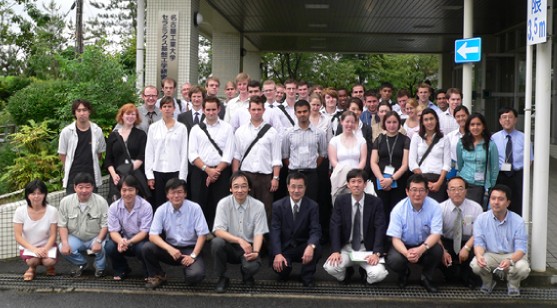 < Group photo >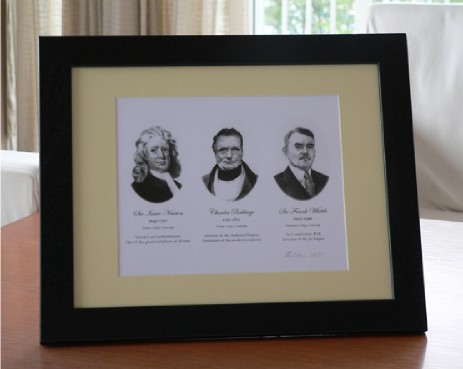 < Gift from Cambridge students >
---
July 11, 2006